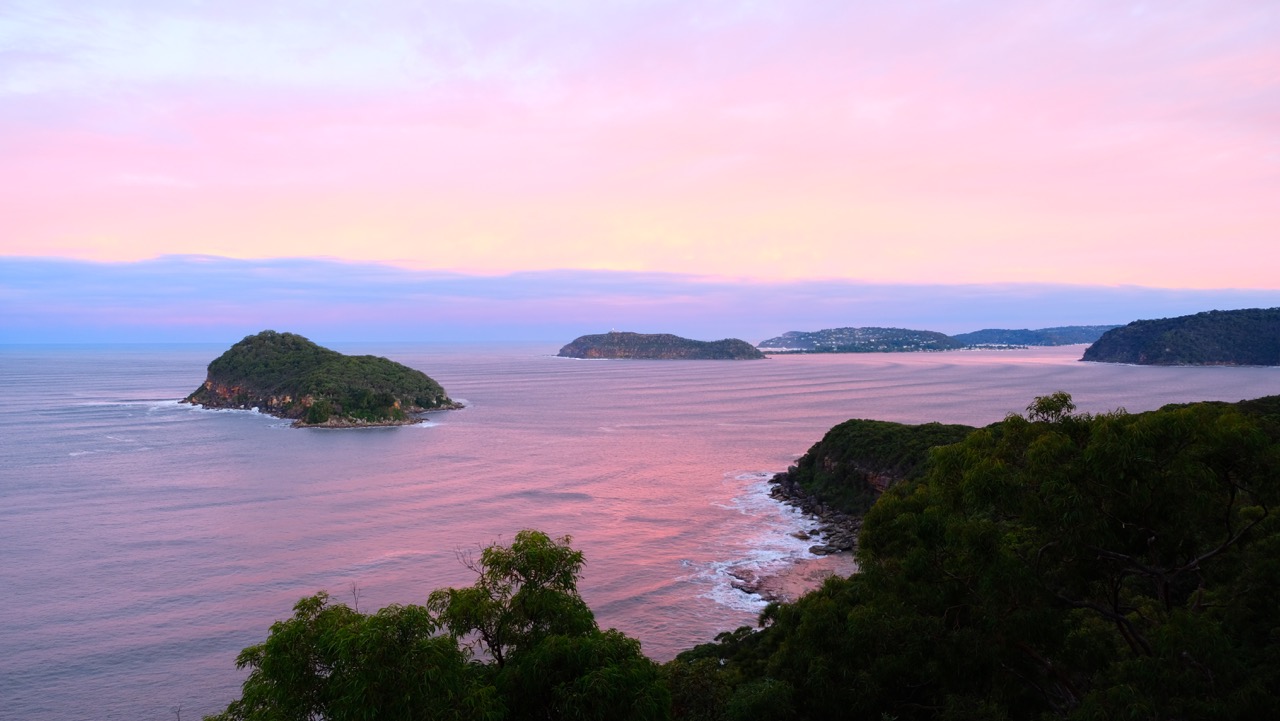 Day 2 Birubi to Shoal Bay
After a much needed de brief last night we all decided on a few outfit changes for me to maximise keeping my body core temperature high enough to paddle safely, however this decision did result in me wearing palm tree wet suit pants! haha lucky the oceans are vast and people are few and far between.
My daily attire is becoming more eclectic by the moment!!!
The day started with overcast conditions with rain sprinkling as we launched the jet ski, lucky the rain wasn't an all day thing, within 20 minutes of the paddle beginning things got real… I looked up and right in front of me was a giant hump back whale, he was incredibly easy to spot as account of him flying through the air full body launching (breaching). That totally got me going, the spirits and laughs were pretty high from this moment onwards.
Today's plan of attack was to paddle out to sea then swing around to face north and let the swell assist me towards the next destination, this worked pretty well however the westerly winds were hard to negotiate.
As i paddled yet again i was greeted with the happy chirps from giant sea birds which i now know to be Albatross, there were a few magic moments with these giant birds where they just sat and paddled along side me as i struck up a fairly lengthy conversation. They continued to fly around me and stay by mysids throughout the entire day. At one point i thought my head was going to be a landing base for one of them as it just hovered above me!
Every so often I sat up on my board for a snack break and stretch, only to discover due to such cold temperatures my musli bars were virtually frozen. As i looked out to sea during these short breaks i can guarantee each time i saw whales! My excitement levels were just as high each time the screams and squeals coming out of me were hilarious (especially re watching video footage)! The whales were so close we decided to scoot over on the jet ski to have a look at one point as i had no chance in matching their speed paddling, I asked Fish the driver where he thought they were and he just laughed and said right under us! That was insane, they knew we were there, they are such peaceful and shy animals it was magical to feel their presence all around us!
I can also confirm my shark shield device works a treat! I was officially shocked/electrocuted no less than 50 times today, so there never really was a dull moment! Fish and i decided to have a stretch break as the cold was getting to both of us today so we made our way onto shark island. Fish has all these hidden talents that he is slowly telling me, apparently he was a dance instructor and owned a very successful studio at one point, so here we are on an island shivering and Fish says well you know the best way to keep warm…? Salsa! haha so yes i scrubbed up on the salsa dancing, not only was he 100% right in salsa keeping you warm but the laughs were endless!
Back on the board I jumped with not too far to paddle before Shoal Bay was just around the point! I looked at that point for quite some hours, the winds turned into a head wind, they increased in speed and conditions deteriorated rapidly, however i just kept throwing the arms over. I feel like Paul my swim coach would be stoked i decided to do double arm paddle or butterfly stroke. Seeing as he makes us count our arm strokes in training i knew the distances i was covering so i pushed on with my freestyle/butterfly madly.
I can honestly say this section of the paddle is one of the most stunning coast lines i will cover over the duration of the 1000km, the random islands and incredible land forms are like nothing else. Lush green mountains, hidden caves and secret secluded beaches; there was so much scenery to look at!
I did stop briefly to take a radio interview mid paddle today, that was a mission in itself. Making sure my finger tips were dry, the phone was dry so i could use the touch screen and trying to face away from there wind. If anyone has tried to use an iPhone in the rain with no success times that degree of difficulty by 1000 and this was my situation. But we got there and I'm sure it was a funny interview all the same!
Finally getting around Shoal Bay point we were greeted by dolphins who played around the jet ski and its wash! I couldn't believe it when we finally reached the boat ramp to have Jonathan the land crew there waiting! Timing was immaculate, and to be treated with a cup of green tea! my happiness levels were at an all time high!
The adventures didn't quite stop there however… for some reason the boys thought it might be fun do do my day's summary from the fork of a tree. So i was boosted up into a massive tree overlooking Shoal Bay on sunset where we filmed the days wrap up. The boys then proceeded in leaving me in the tree and driving off. I was freaking out. Lucky they came back and got me down! haha what a day…